fib PhD Symposium 2020 in Paris
Join us for the next fib PhD Symposium in Paris!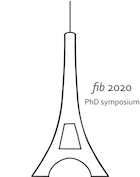 After an excellent edition organised in Prague in 2018, the next fib PhD Symposium will take place from 26-28 August 2020 in Paris, France!
This event provides an excellent opportunity for PhD students to share scientific thoughts and findings with the international research community from all over the world in the following fields: innovation in materials and structures, construction technology, structural analysis and design, durability and life assessment, sustainability and life cycle assessment and monitoring and structural assessment.
If you wish to participate in this new edition of the fib International PhD Symposium in Civil Engineering, we invite you to register on this site. First, create an account and then click on the Login button on the top right of the page.
Abstract submission deadline is 30 November 2019. The post-conference proceedings will be sent to recognised databases like Scopus or WoS for indexing.
For more information and to register, please visit the official website. We look forward to seeing you in Paris!