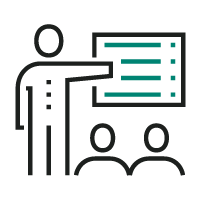 The fib technical council (TC) consists of the heads of delegation of the national groups, commission chairs, presidium members, honorary presidents, the secretary general and additional members appointed by the presidium for a four-year term.
fib members can find the current list of TC members in when they are logged in the fib members section of the website.
The TC meets at least once per year and is responsible for initiating commissions and task groups, approving their terms of reference and appointing their chairs and conveners, respectively. The TC monitors the work of all the commissions and approves all recommendations, guides and manuals for publication.
The TC also makes recommendations to the presidium regarding:
the dissemination of the results (in the form of bulletins, for example); and
the need to put forth technical resolutions to be approved by the GA.
| First name | Last name | Country | Affiliation |
| --- | --- | --- | --- |
| Iria | Doniak | Brazil | ABCIC |
| Hans Rudolf | Ganz | Switzerland | Ganz Consulting |
| Jim | Forbes | Australia | Arcadis |
| Gordon | Clark | United Kingdom | Consultant |
| Larbi | Sennour | United States | The Consulting Engineers Gr., Inc. |
| Avraham | Dancygier | Israel | Technion-Israel Institute of Technology |
| Roland | Fox | Luxembourg | Admin. Ponts et Chaussées |
| David | Fernández-Ordóñez | Switzerland | fib |
| Steinar | Helland | Norway | S Helland Konsult |
| Johan | Silfwerbrand | Sweden | KTH Royal Institute of Technology |
| Antonio | Martinez Cutillas | Spain | Carlos Fernandez Casado, S.L. |
| György L. | Balázs | Hungary | Budapest Univ. of Techn. & Economics |
| Jean Michel | Torrenti | France | Univ Gustave Eiffel |
| Konrad | Bergmeister | Austria | Univ. Bodenkultur |
| Christis | Chrysostomou | Cyprus | Cyprus University of Technology |
| Milan | Kalny | Czech Republic | Pontex s.r.o. Prague |
| Manfred | Curbach | Germany | Technische Univ. Dresden |
| Wit | Derkowski | Poland | Cracow Technical University |
| Alper | Ilki | Turkey | ITU - Istanbul Technical University, Rectorate |
| Akio | Kasuga | Japan | Sumitomo Mitsui Construction Co., Ltd |
| Gennadiy G. | Farenyuk | Ukraine | NIISK - Research Inst. Building Constr. |
| Jože | Lopatič | Slovenia | University of Ljubljana |
| Giuseppe | Mancini | Italy | Politecnico Torino |
| Marco | Menegotto | Italy | Private |
| Maria Rosaria | Pecce | Italy | Università del Sannio |
| Thanasis | Triantafillou | Greece | University of Patras |
| Aad | van der Horst | Netherlands | - |
| Joost | Walraven | Netherlands | Delft University of Technology |
| Juha | Valjus | Finland | Sweco Rakennetekniikka Oy |
| Xuekang | Tao | China | China Acad. Building Res. |
| Stuart | Matthews | United Kingdom | Matthews Consulting |
| Hans-Dieter | Beushausen | South Africa | University of Cape Town |
| Alessandro | Palermo | New Zealand | The University of Canterbury |
| Mikael | Braestrup | Denmark | Rambøll |
| Rayed | Al Arashi | United Arab Emirates | Goverment of Dubai |
| Sisir | Banerjee | India | - |
| Harald | Müller | Germany | SMP Ingenieure im Bauwesen GmbH |
| Petr | Hajek | Czech Republic | Czech Technical University in Prague |
| Michel | Virlogeux | France | Virlogeux Consulting |
| Tamon | Ueda | China | Shenzhen University |
| Fernando | Stucchi | Brazil | ABECE/EGT |
| Stephen | Foster | Australia | UNSW Australia |
| Sung-Gul | Hong | Korea, Republic of | Seoul National University |
| Rolf | Eligehausen | Germany | IWB, Universität Stuttgart |
| Stef | Maas | Belgium | FEBE |
| Robby | Caspeele | Belgium | Ghent University |
| Peter | Paulik | Slovakia | Slovak University of Technology in Bratislava |
| Eduardo | Julio | Portugal | Instituto Superior Tecnico, Universidade de Lisboa |
| Marco | di Prisco | Italy | Politecnico di Milano |
| Chris | Hendy | United Kingdom | Atkins |
| René | Walther | Switzerland | Walther Mory Maier Bauingenieure AG |
| Vyatcheslav | Falikman | Russian Federation | Russian Structural Concrete Association |
| Tor | Martius-Hammer | Norway | SINTEF AS |
| Michael | Fardis | Greece | University of Patras |
| Agnieszka | Bigaj-van Vliet | Netherlands | TNO - Buildings, Infrastructures and Maritime |
| Alberto | Meda | Italy | University of Rome "Tor Vergata" |
| Jan | Vítek | Czech Republic | Metrostav a. s. |
| Alfred | Strauss | Austria | Univ. Bodenkultur Vienna |
| Luc | Taerwe | Belgium | Ghent University |
| Venkataramana | Heggade | India | Indian National Academy of Engineers |
| Xilin | Lu | China | Tongji University |
| Antonio | Caballero | Switzerland | Screening Eagle Technologies AG |
| Wayne | Kassian | Canada | Kassian Dyck Associates |
| José | Campos e Matos | Portugal | University of Minho |
| Thierry | Delemont | Switzerland | T-ingenierie SA |
| Hugo | Corres Peiretti | Spain | FHECOR Ingenieros Consultores |
| Domenico | Asprone | Italy | University of Naples Federico II |
| Linh | Hoang | Denmark | Danmarks Tekniske Universitet |
| Jemma | Ehsman | Australia | Rio Tinto - Dampier Salt |
| Sylvia | Kessler | Germany | Helmut-Schmidt-University/ University of the Federal Armed Forces Hamburg |
| Tetsuya | Ishida | Japan | Department of Civil Engineering |
| Tor Ole | Olsen | Norway | Olav Olsen a.s. |
| Ólafur | Haraldsson | Iceland | Icelandic Road and Coastal Administration |
| Tim | Christle | United States | Post-Tensioning Institute |
| Alok | Bhowmick | India | B&S Engineering Consultants PVT.Ltd |