New fib working groups
We are delighted to announce the new fib Working Groups, which were approved during the Technical Council. The TC was held online on 10-11 October 2020.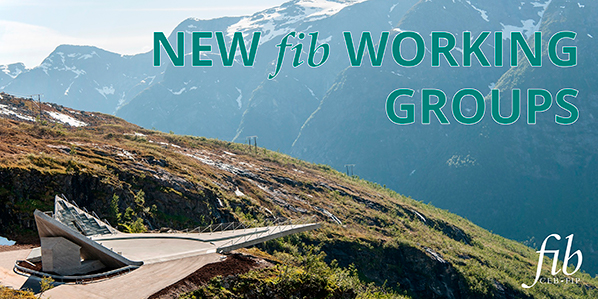 These updates include the re-election of Jan Vítek as Chair of Commission 2 Analysis & Design, the election of Jean-Michel Torrenti as Commission 4 Concrete & Concrete Technology Chair, the election of Antonio Caballero as Commission 5 Reinforcements Chair, the election of José Matos as Deputy Chair of Commission 8 Durability, and the election of Motohiro Ohno as 2021-2022 Young Members Group Chair.
The new working groups include WP2.4.2 "Modelling of Fibre Reinforced Concrete Structures", TG 4.5 "Time-dependent Behavior of Concrete" (convener Roman Wan-Wendner), TG4.7 "Recycled aggregates" (convener Nikola Tosic, co-convener Jean-Michel Torrenti), TG4.8 "Low-carbon concrete structures" (convener Martin Cyr), TG 5.10 "Inspection and monitoring of reinforced/prestressed concrete structures" (co-conveners Antonio Caballero and Jan Winkler), TG 5.11 "Polymer-duct systems for internal bonded post-tensioning (convener to be determined), WP 5.1.1 "Prestressing with FRP". The new conveners of pre-existing working groups include Fragoulis Kanavaris (TG4.6 "Constitutive laws for concretes with supplementary cementitious materials"), Werner Brand (TG5.5 "Cables for cable-supported bridges"), and David Gardiner (TG8.7 "Durability design of steel fibre reinforced concrete").