<i>fib</i> Symposium in Shanghai
fib Symposium in Shanghai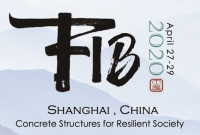 Save the date for the fib's 2020 Symposium! It will be held in Shanghai, China from 27 to 29 April 2020.
The fib Symposium is intended to bring together all professionals around the world to share knowledge and experience on new developments in concrete technology and concrete structure, with a particular focus on resilience-based approaches. The keynote speakers include Prof Luc Taerwe, Dr Akio Kasuga, and Prof Xianglin Gu.
The main topics of the fib Symposium 2020 include:
Challenging Project: Building, Bridge, Tunnel, Dam, Airport, Stadium, Nuclear Power Plant, Harbor and Ocean Structure, Others
Concrete Materials: Recycled Aggregate Concrete, Ultra High Performance Concrete, Self-compacting Concrete, Self-healing Concrete, Lightweight Concrete, Foamed Concrete, Alkali Activated Concrete, Fibre Reinforced Concrete, Textile Reinforced Concrete, Engineered Cementitious Composite, Reinforced And Prestressed Concrete, Other New and Special Concrete Materials
Concrete Structures: Buildings, Bridges, Tunnels, Underground and Foundation Structures, Floating Concrete Structures, Ocean Concrete Structures, Structural floors, Pavement, Reinforced Concrete Structures, Prestressed Concrete Structure, Fibre Reinforced Concrete Structures, Composite and Hybrid Structures, Construction Technology, Project Management
Analysis and Design: Shear and Torsion, Fatigue and Cyclic Loading, Dynamic and Seismic Loads, Impact and Accidental Loads, Fire Loads, Long Term Behaviour, Mechanical Model, Numerical Modeling, Standards and Specifications, Seismic Design, Fire Design, Performance Based Design, Building Information Modelling (BIM)
Precast Structures: Precast Panels, Precast Floors, Precast Buildings, Precast Bridges, Precast Engineering Structures, Seismic Resistance of Precast Structures, Retrofitting of Precast Structures, Quality Control, Detailing for Precast Structures
Sustainability and Resilience: Resilience and Robustness, Sustainability, Reliability, Serviceability Models, Design for Durability, Concrete Deterioration Mechanisms, Reinforcement Corrosion, Assessment of Existing Structures, Monitoring and Maintenance, Structural Strengthening, Repair and Rehabilitation, Repurpose and Recycle, Through Life Management
Registration Type


Early Bird Rate by
February 29, 2019

Standard Rate by
April 18, 2020

On-site Rate

Regular attendee (1)

€600 /¥4600

€650 /¥4900

€750 /¥5700

fib members

€500 /¥3800

€550 /¥4200

€650 /¥4900

Students Rate (Born after 1st Jan. 1990) (2)

€275 /¥2100

€325 /¥2500

€375 /¥2700

fib student members (2)

€250 /¥1900

€300 /¥2100

€350 /¥2500

One-day attendee

€250 /¥1900

€300 /¥2100

€350 /¥2500

Accompanying person (family members only) (3)

€200 /¥1500

Gala dinner

€50 /¥400

(1) Registration fee includes the publication of up to two papers.

(2) Please provide DOB document (e.g. Passport or Driving License) during the registration process.

(3) More social programs are to be announced for accompanying persons.
Important dates:
| | |
| --- | --- |
| Abstract Submission by | Dec. 31, 2019 |
| Note of Abstracts Acceptance | Jan. 31, 2020 |
| Submission of Full Papers by | Jan. 31, 2020 |
| Note of Full Paper Acceptance | Feb. 29, 2020 |
| Early Bird Rate available until | Feb. 29, 2020 |
| Cancellation possible until | Apr. 20, 2020 |
Please visit the official website for more information.
Event Properties
| | |
| --- | --- |
| Event Date | 27-04-2020 |
| Event End Date | 29-04-2020 |
| Location | Shanghai |