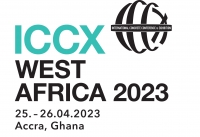 The fib supports ICCX West Africa, which will take place on 25-26 April 2023 in Accra, Ghana.
The construction industry in Ghana is continously increasing, valued some $9 billion according to a report published recently by the Oxford Business Group ("What will drive construction activity in Ghana?" Retrieved July 11, 2022, from https://oxfordbusinessgroup.com/overview/driving-force-planned-large-scale-infrastructure-development-projects-will-fuel-construction). Having proved to be more resilient than feared during the Corona crisis, the construction industry is expected to develop rapidly in the area of cost and achieving advance technologies. The use of precast concrete technology has been embraced by the experts of construction industry in Ghana. Ghanaian construction professionals prefer the use of precast concrete construction mainly because of low life cycle cost, reduction of on-site waste, speed of construction, and quality of work done.
The Ghana Standards Authority (GSA) is promoting actively precast construction to the industry. It is also mandated to ensure that building materials including precast products manufactured in Ghana, for the building and construction industry, meet optimum requirements and specifications, therefore, high-quality production equipment is inescapable.
The construction industry in Ghana is booming and precast is getting more and more into the focus. Precast construction is attractive both for private and public projects; i.e. railway and road construction, airports, infrastructure and urbanization in general with office and housing projects. It is now the perfect time to promote best practice with precast in Ghana and surrounding and thus benefitting from the prosperous economy.
ICCX West Africa will be the new meeting point for the concrete and precast industry. Located in Ghana that is considered to be the entry point for the English speaking countries in Western Africa, the event will be organized on Apr 25/26, 2023. International machinery suppliers from all over the world will be present in the trade exhibition, and in parallel a technical conference will provide up-to-date knowledge for the concrete and precast industry.
For more information, please visit the official website.
Event Properties
| | |
| --- | --- |
| Event Date | 25-04-2023 |
| Event End Date | 26-04-2023 |