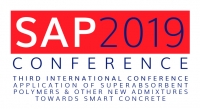 The fib supports SAP2019, which will take place in Skukuza, South Africa at the Kruger National Park from 25 to 27 November 2019. It is the 3rd International Conference on the Application of Superabsorbent Polymers (SAP) and Other New Admixtures Towards Smart Concrete. The first conference in this series was held in Lyngby 2010 and the second at Dresden 2014.
The purpose of this conference is to bring together the research community in the field of SAP and other modern admixtures to share knowledge and ideas and also to publish a proceeding that contains the state of the art of research in this field.
Contributions are not limited to these themes but expected to be in the fields of:
• Mechanical Properties
• Durability
• Shrinkage and Associated Cracking
• Microstructure
• Rheology
The setting for this conference is the beautiful Skukuza camp in the Kruger National Park, South Africa. This is one of the largest national parks in Africa, covering almost 20,000 square kilometres.
For more information, please refer to the official flyer and visit the official website.