SC Vol 19 Issue 4 is out!
The August issue of Structural Concrete is out!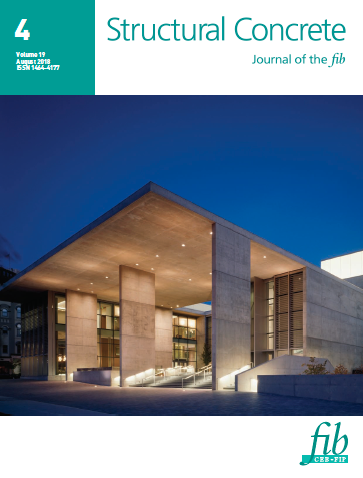 The latest issue of the fib journal Structural Concrete (Impact Factor 1.384) is out. fib Presidium member Steve Foster wrote the editorial "Reflections on an academic career", in which he shares his observations on innovation and risk-taking in practice and academia today vs in the 1980's.
The first article is entitled "fib Model Code 2020: Towards a general code for both new and existing concrete structures", which was written by Task Group 10.1 "Model Code 2020" convener Stuart Matthews, Agnieszka Bigaj-van Vliet, Joost Walraven, Giuseppe Mancini and Gerrie Dieteren.
Discussions have been underway in fib (Fédération Internationale du Béton) about advancing the fib Model Code for concrete structures. These include the fib international workshop in The Hague (June 2015), the fib MC2020 Core Group meeting in Madrid (December 2015), and a series of follow-up worldwide consultations on the fib ambition regarding the new developments in structural codes, including the special session on Model Code in the fib Symposium in Maastricht (June 2017). This paper discusses the main aspects of the development of fib MC2020, which is envisaged as a single-merged general code fully integrating the provisions for the design of new concrete structures with matters relating to existing concrete structure.
Stay tuned – the next issue will be published at the end of October.