2019 Awards & Honours
The fib is delighted to announce the 2019 fib Awards & Honours Recipients!
Prof Peter Marti was awarded the fib Medal of Merit 2019. Peter Marti played an active part in professional associations and technical committees: He was chairman of ACI-ASCE Joint Committee 445 "Shear and Torsion" and of fib Commission 4 "Modelling of Structural Behaviour and Design", president of the Swiss structural concrete code committee SIA 162 as well as member of the board of the Swiss Society of Engineers and Architects SIA. From 1999 to 2003 he was head of the Swisscodes project team that worked out the current structural design codes for Switzerland. His field of interest ranges from cracking and deformation behaviour of structural concrete in tension, compression and shear to masonry structures, steel fibre reinforced concrete, shell structures as well as to construction history. Prof Marti co-organised the 6th PhD Symposium in Civil Engineering in 2006 in Zurich, Switzerland.
Congratulations to Prof Marti on receiving the fib Medal of Merit 2019!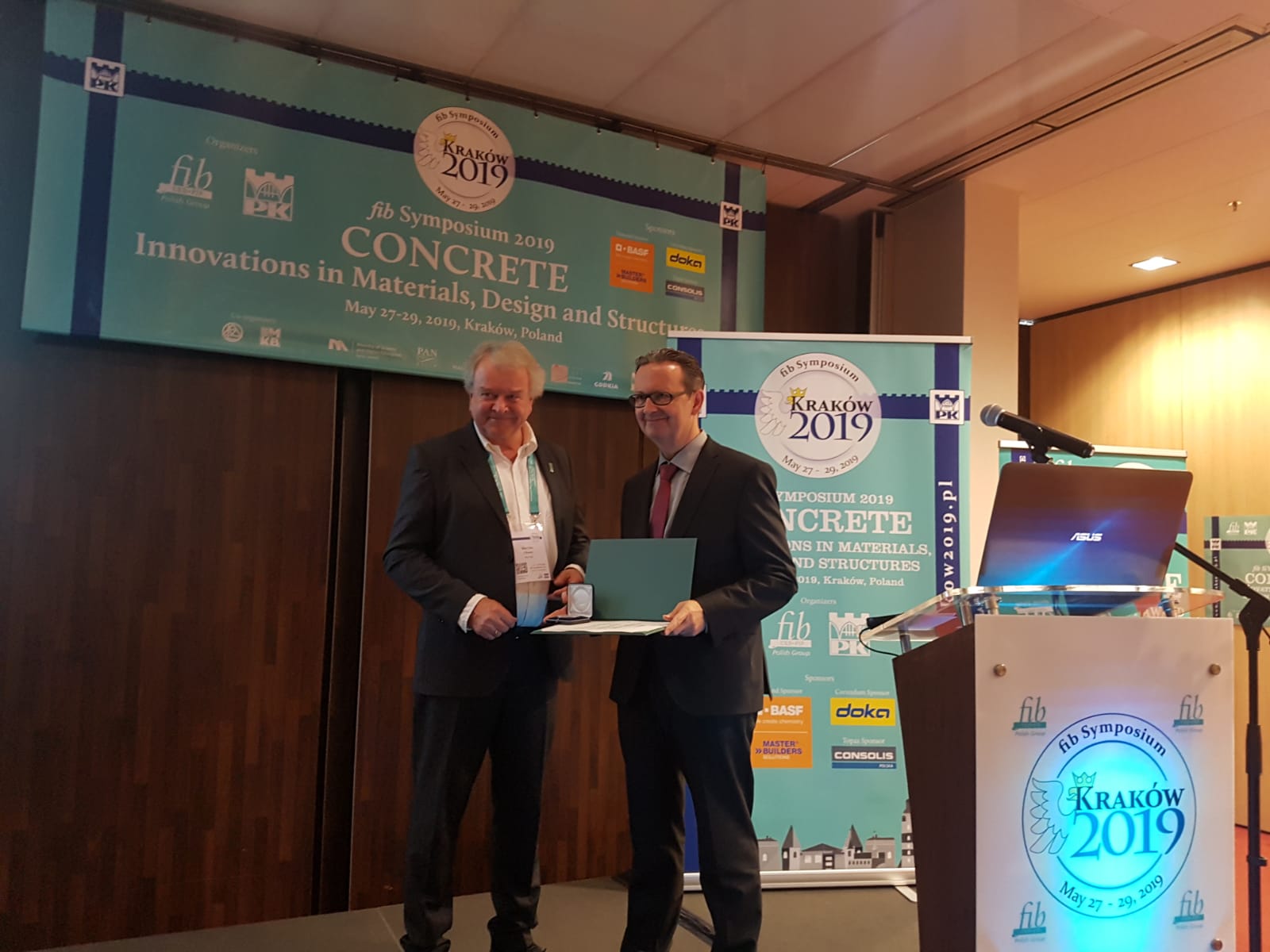 Prof Walter Kaufmann accepting the Medal on Prof Peter Marti's behalf.
Prof Milan Chandoga was awarded the fib Honorary Membership. Milan Chandoga co-founded the Slovak National Committee (SNK) FIP/fib in 1993 and has been its president since 2004. Beginning with the 1990 FIP Congress in Hamburg, he actively participated in all FIP/fib congresses. Since 2000, Milan Chandoga has been a member of the former fib Commission 9 "Reinforcing and Prestressing Materials and Systems" and has been a member of the General Assembly and Technical Council since 2004. Thanks to his efforts, SNK has been able to present its own national report at each Congress since 1994. Prof Chandoga took part in numerous fib Working Groups, including Commission 5 Reinforcements, Task Group 5.5 "Cables for cable-supported bridges" and Task Group 5.8 "External tendons for bridges".
Congratulations to Prof Chandoga on being awarded the 2019 fib Honorary Membership!