fib Latest Developments Webinar
The fib is holding an online webinar on 24 June 2020 from 12:00 to 15:30 (CET). Registration is free, and places are limited. Make sure you register early!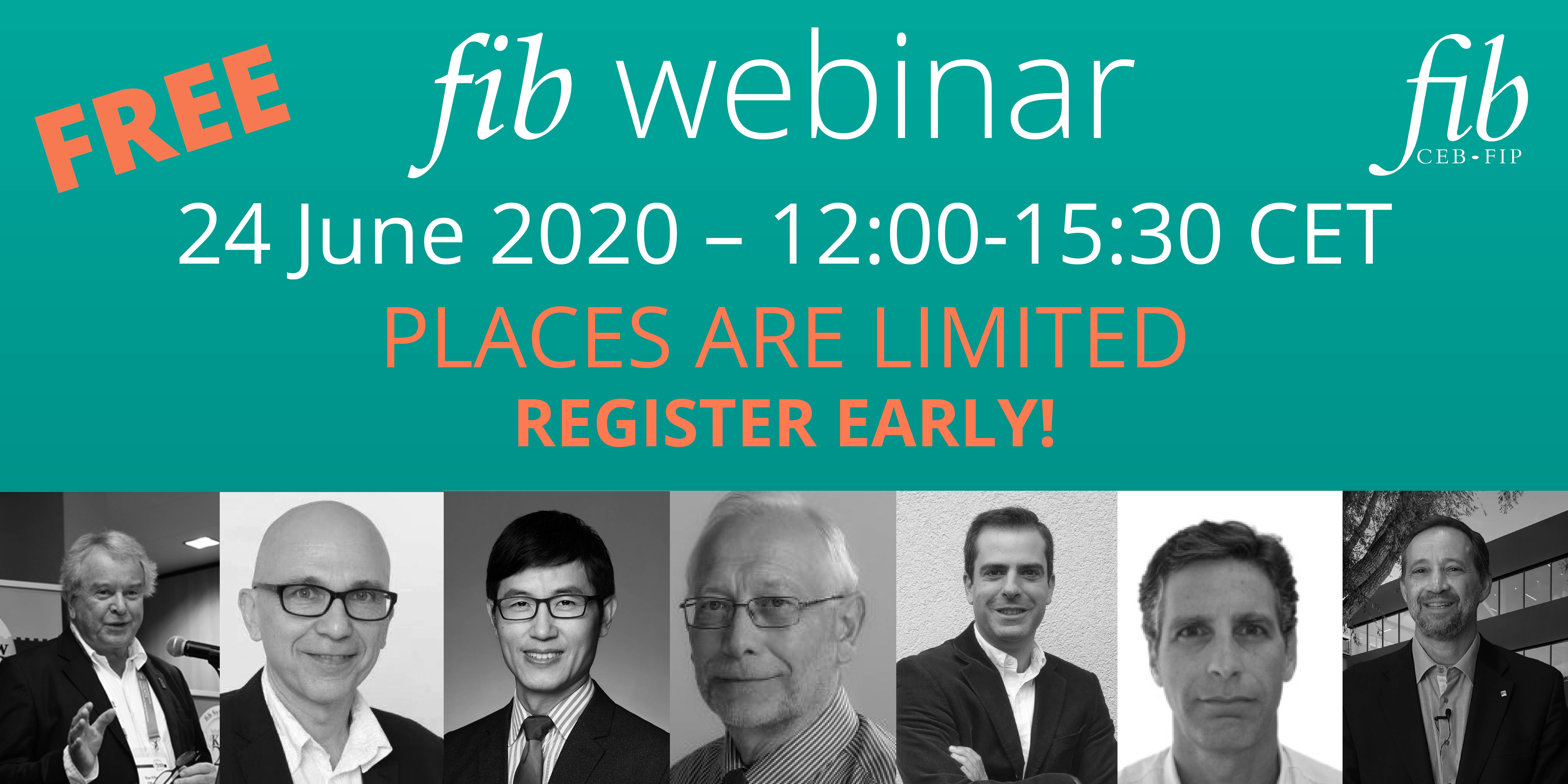 Each session will last about 20 minutes to allow time for questions. fib President Tor Ole Olsen will talk about the fib its goals, its history, its current projects, and more. Prof Jean-Michel Torrenti (Head of the French fib Delegation) will discuss the fib PhD Symposium in Paris. fib Symposium in Shanghai OC Chair Prof Bin Zhao will address precast concrete structures. Stuart Matthews (fib Task Group 10.1 "Model Code 2020" Convener) will talk about the latest development of the fib Model Code 2020. Long-time fib member Dr Miguel Fernández Ruíz (fib Task Groups 2.2 "Ultimate limit state models" and 2.10 "Textile Reinforced Concrete Construction and Design" member) will give a presentation titled "Towards a more sustainable approach to concrete construction". Marcelo Waimberg (fib Task Group 6.5 "Precast Concrete Bridges" member) will discuss precast bridges. fib Secretary-General Dr David Fernández-Ordóñez will then conclude the webinar.

Full programme:
| | | |
| --- | --- | --- |
| Tor Ole Olsen (NO) | fib presentation | 12:00 |
| Marta Del Zoppo | fib Young Members Group presentation | 12:20 |
| Jean-Michel Torrenti (FR) | PhD Symposium | 12:30 |
| Bin Zhao (CN) | Topics on Precast Concrete Structures | 13:00 |
| Stuart Matthews (UK) | MC2020 development | 13:30 |
| Miguel Fernández Ruíz (CH) | Towards a more sustainable approach to concrete construction | 14:00 |
| Marcelo Waimberg (BR) | Precast Bridges | 14:30 |
| David Fernández-Ordóñez (CH) | Conclusion | 15:00 |