Special Pitch Session
The fib Symposium 2021 includes activities organized by and for young engineers.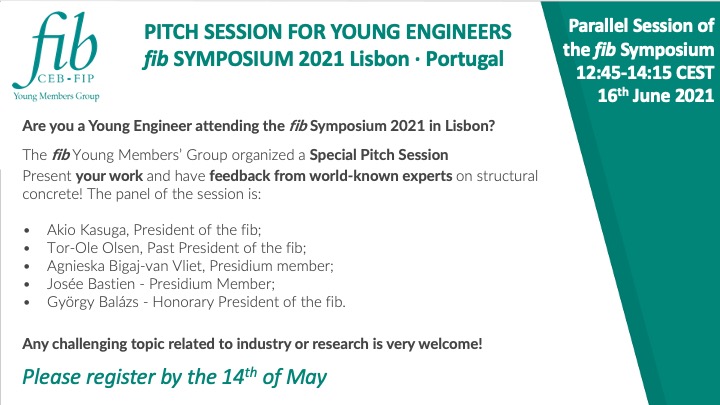 The fib Young Member's Group was established in Madrid in 2017 and, since then, fib Symposia have included YMG sessions and social activities that gather young professionals and students spread across the globe. The Symposium in Lisbon is no exception. A workshop will take place on the Sunday before the event (the 13th of June), with social activities, discussions, work meetings and networking planned by the YMG and open for any interested young engineer. The planning of the workshop is underway and details will be announced soon.
On Wednesday the 16th June, from 12:45 to 14:15 CEST, the last day of the Symposium, a Special Pitch Session will take place. Young Engineers attending the Symposium are invited to present concepts, ideas and challenges related to their work, in just 3 minutes, to a very distinguished panel:
• Akio Kasuga, President of the fib;
• Tor-Ole Olsen, Past President of the fib;
• Agnieska Bigaj-van Vliet, fib Presidium member;
• Josée Bastien - fib Presidium Member;
• György Balázs - Honorary President of the fib.
This is a unique opportunity to have feedback on your work from world-known experts on structural concrete!
Any challenging topic related to industry or research is very welcome.
Please be aware that the number of participants is limited. Please register by filling this form by the 14th May 2021.
Additional information on the pitch session will be sent to the registered participants by the 22nd of May.