fib WP 2.4.1 – 3rd Blind Simulation Competition
The 3rd Blind Simulation Competition (BSC) Simulation of slabs reinforced with conventional flexural reinforcement and fibres subjected to punching loading configuration is being organized within the scope of the fib Working Group WP 2.4.1 Modelling of Fibre Reinforced Concrete Structures.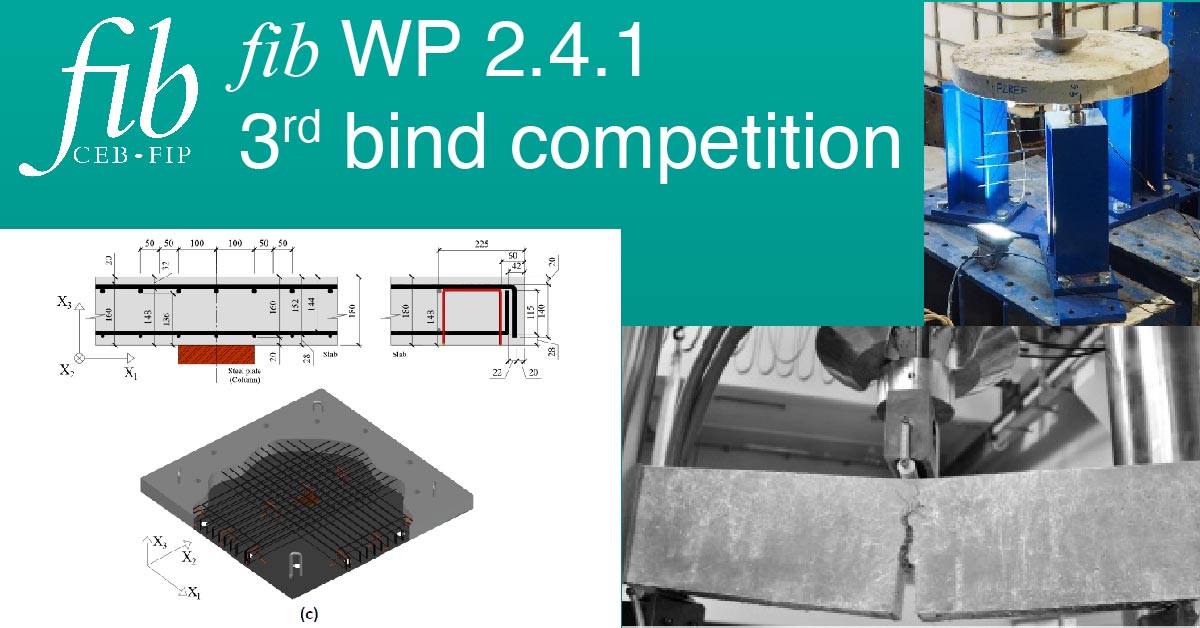 Researchers, engineers and designers are invited to participate in order to verify the performance of the numerical models used in the simulation of the behaviour of fibre reinforced concrete (FRC) structures.
The purpose of the benchmark is to predict some important behavioural aspects of a slab made by steel fibre reinforced concrete (SFRC) and flexurally reinforced with conventional longitudinal bars (R/SFRC).
This prototype aims to represent a region over a column of an elevated slab or over a pile of a slab supported on piles made by SFRC and including conventional flexural reinforcement in the alignment of columns/piles. The fibres aim to provide punching-shear reinforcement. The two twin prototypes to be tested will be subjected to punching loading configuration.
After reception of participant report's predictions, two R/SFRC slab prototypes will be tested up to their failure in the laboratory of the Structural Division of the Department of Civil Engineering of Minho University (LEST), between 12/06/2023 and 30/06/2023, in order to obtain the experimental results and compare them with the numerical predictions.
The purpose of this BSC is to verify the capacity of existing FEM-based models to estimate, mainly, the force-deflection, deflection profile, and strain levels in conventional flexural reinforcement and in
concrete of critical regions of R/SFRC slab under punching loading conditions. The predictive capacity in terms of crack pattern and failure mode will be also an objective.
The material properties file is available for download.
For more information, please refer to the flyer.